Let the work we do be the gears to the machine that drives good into the world!

Metro East Community Rotary meets in the evenings in order to best meld our busy professional lives with our need for community service. We are an action group with LOTS of projects throughout the year for all areas within our community and the World!
Our area is defined as being a region within Illinois that comprises of the eastern suburbs of St. Louis, Missouri. This region is considered part of the overall St. Louis Metropolitan Area. For our group, we strive to provide service to organizations within that broad region and not our immediate cities of Edwardsville and Glen Carbon.
Come join us the 1st and 3rd Tuesday of each month in the Power Room at Edison's Entertainment Complex. Our meetings begin at 6:30pm and are open to the public free of charge.
Our meetings our open to the public! Please come join us and learn more about Rotary within the Illinois and National levels.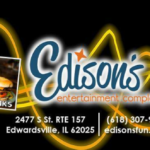 For immediate updates and what's happening within our club, check us out on Facebook
Visit our District page to see what's going on in Illinois.
Here's whats happening on the International level: